Jun
23
Sun
Online Concert: Sooj & Celia Sunday Shared Show

@ Sooj's Concert Window channel
Jun 23 @ 8:00 pm – 10:00 pm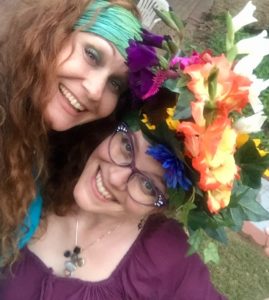 Join these wicked, wise song sisters as they share online stage time from Sooj's home base, beaming from their screen to yours! This is a tremendous opportunity to see TWO "Bad-Ass" Bards in ONE SHOW! Green Album alums Celia & Sooj have been friends for many years, but they have not had an opportunity to share a full show together in quite some time! Come make this a special night with us.
Pay what you want, get comfortable, and take advantage of awesome tip rewards!
S. J. Tucker is the voice of lore at the campfire and the sharp laughter of modern myth, a whimsical wisdom keeper whose performances run the gamut from silly to sacred and back again. Named "the voice of neotribal Paganism" by Witches & Pagans Magazine, Tucker is a fixture at festivals and on playlists worldwide. With deft guitar, skillful hand drums, and a siren's compelling vocals, she wields an award-winning body of original music known for changing lives and healing wounded hearts.
Singer/Songwriter/Comedienne Celia has been described as "A cross between an Earthy Enya, Joan Baez, and Tina Fey." She dishes up the most delicious concoction of the silly and sacred delighting audiences across the nation. Celia is known as the "Everyday Goddess" with rusty red locks and twinkling eyes which cast a spell of enchantment upon her listeners. Celia gifts those in her audience with a warm, deep and resonating experience touching your heart, your skin, your whole being.
In addition to having the kind of silky smooth voice often associated with classic Celtic Singers, such as "Celtic Woman", Celia excels at comedy. She often transforms right on stage into one or more of her alter-egos-whose antics typically leave the audience howling with laughter. With powerful, heart-felt vocals and wacky comedic improvisations, the audience never knows what will happen with Celia on stage. Celia is originally from Wisconsin & calls the road her home. She is currently touring with her 13th album, "KARMA". No matter how many times you think you've seen Celia, you can never predict what she will do and how deeply she can reach into the soul of an audience.
www.Celiaonline.com
Aug
16
Fri
Albuquerque: Sooj Performs at CoG Merry Meet 2019

@ Best Western Plus Rio Grande Inn
Chamisa Local Council is thrilled to welcome S. J. Tucker back to New Mexico! Our favorite Lady Vagabond will present the Friday evening concert, a celebration of Blessings and Mischief by one of our favorite Sirens—and the Wonders of her voice, guitar, and drums are not to be missed! This concert, with accompanying hors d' oeuvres, is included in both levels of registration, so register soon!
The Crow Women perform Saturday evening – stick around for their sweet & wise shenanigans!