Jun
9
Fri
West Plains, MO: Sooj performs at 3 Gates Gathering

@ Wite Ravyn Campground
Join Sooj, Mama Gina, Bran Cerddorion, speakers Prudence Priest & Rowena Whaling, and hosts Willo' Wellspring & Alfred Willowhawk for some sweet summer magic & music at the edge of the mountains!
Three Gates Gathering is a Mystery School that is the brainchild of Willo' Wellspring established in 2008. Its mission is to provide an educational opportunity for individuals from every tradition and at every level to learn and grow from each other in a stress free, family oriented environment while also accommodating adult needs. People and groups of Pagans from all over North America come for this weekend of fellowship, music, and learning.
Aug
28
Mon
St. Louis: Zeze Oiseau's Sultry Summer Night Concert!

@ The Bell House
Aug 28 @ 7:00 pm – 9:00 pm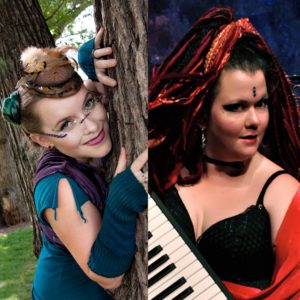 Zeze Oiseau is the sassy, sexy, musical fusion of Glamazon Goddess Renée Janski and Pixie Queen S. J. Tucker. Join us for a Sultry Summer Night of songs on piano and guitar, shared by two snazzy songbirds who lift the spirit and fire the soul, hosted by the lovely Amanda Bell and family!
Music will begin at 7pm; 50 seats available. The Bell House is in a gorgeous, green StL neighborhood with plenty of parking on the street. Advance ticket purchase is strongly recommended, and attendees may wish to bring their own comfortable chair. The concert will be outdoors, so bug-spray up as needed.
Oct
19
Thu
Memphis, TN: Sooj at SG's Festival of Souls 2017

@ Meeman-Shelby Forest State Park