Oct
29
Sun
Omaha: #MusesontheRoad Tour

@ Unity Fellowship of Omaha
Oct 29 @ 7:00 pm – 10:00 pm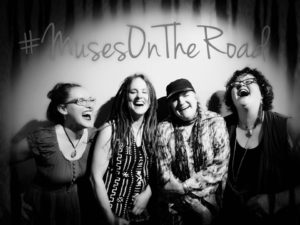 S. J. Tucker, Ginger Doss, Lynda Millard, Ronda Jean, and Renée Janski are hitting the road this fall! Powerful musicians on tour together is always something to sing about, but the #MusesontheRoad tour will be historic for this group of long-time colleagues and friends, all of whom perform together frequently from time to time, but have only this year had a chance to book a whole tour to share! The whole crew is thrilled to be making a stop in Omaha at the lovely Unity Church, for one night only.
Doors open at 6:30pm, and music begins at 7pm. Advance tickets are $10, $15, and $20 (or more), buyer's choice.
Sisters & singer-songwriters come together to rock your world this October-November, with concerts in eight US states + two online shows: hippie warrior Ginger Doss, groove tamer Ronda Jean, truth goddess Lynda Millard, blues priestess Renée Janski, and pixie queen S. J. Tucker! There will be rock. There will be jazz. There will be truth, tears, laughter, and more. #MusesontheRoad. Get on board.
#MUSESONTHEROAD TOUR 2017
Ginger Doss: vocals, keys, drums
Renée Janski: vocals, keys, bass, fiddle, drums
Ronda Jean: bass, percussion
Lynda Millard: vocals, bass, flute, guitar, drums
S. J. Tucker: vocals, guitar, drums
OCT 26: ONLINE KICKOFF CONCERT
OCT 27: FAYETTEVILLE, AR
OCT 28: KANSAS CITY
OCT 29: OMAHA
NOV 1: DENVER
NOV 2: SUNSET, UT
NOV 5: PORTLAND, OR
NOV 8: MID-TOUR ONLINE CONCERT
NOV 9: SILVERDALE, WA
NOV 10: SILVERDALE, WA
NOV 11: WE'MOON, ESTACADA, OR
NOV 12: TBA
NOV 15: REDMOND, WA (with cello goddess Betsy Tinney!)
NOV 17: PORTLAND, OR
NOV 18: TACOMA, WA
NOV 22: ALBUQUERQUE, NM