Feb
9
Fri
Little Rock: 2nd Friday Art Night, Delta Rediscovered Exhibit Opening

@ Butler Center Gallery
Feb 9 @ 5:00 pm – 8:00 pm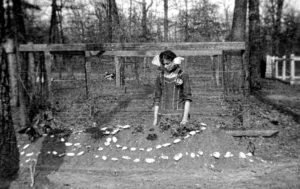 "Delta: Rediscovered," images of early life (circa 1880-1924) in Arkansas's White River Delta by photographer Dayton Bowers, opens Friday, February 9, 2018, in the Butler Center Gallery. The Butler Center, 401 President Clinton Avenue in downtown Little Rock, celebrates this 2nd Friday Art Night event from 5 – 8 pm with music, refreshments, art and art lovers.
Photographer Dayton Bowers chronicled the rise of prosperity in the Delta and operated Arkansas's first known photography studio, located in DeWitt. Bowers's images reflect pride of place and a deep connection to nature and family. Bowers directly influenced notable Arkansas photographer Mike DisFarmer, who grew up in Arkansas County.
Exhibit curator Denise Parkinson, author of Daughter of the White River (History Press, 2013) will also screen a short (9-minute) documentary film adaptation of her book, which focuses on the little-known history of Arkansas's River People and tragic heroine Helen Spence. Bowers's photography—central to the book and film—includes a circa-1916 portrait of Helen Spence. The documentary project marks the debut of "Look to the Water," an original song by Arkansas singer/songwriter S. J. Tucker, who will also be on hand for the opening reception.
Delta: Rediscovered will be on display through April 28, 2018, at the Butler Center Gallery. The Butler Center houses the Dayton Bowers photographic archive, donated by Hot Springs historian LC Brown in memoriam of his late wife, Anna Grace Bowers Brown. The Anna Grace Bowers Brown Manuscript Collection contains 200 Dayton Bowers photographs, postcards and tintypes.
Delta: Rediscovered is made possible by grants from the Department of Arkansas Heritage and The Morris Foundation. For more information, visit www.dwparkinson.com or search on Facebook for The Rediscovered Archives of Dayton Bowers.
Feb
16
Fri
Seattle area: ZOECon, Strowlers Pilot Premiere!

@ Red Lion Hotel Bellevue
Feb 16 @ 9:00 pm – 10:30 pm
Join Zombie Orpheus Entertainment for three days of films and games and general nerdery! There will be screenings, trivia, workshops, performances, secret previews, and a whole room just for some of our favorite games.
Larry Dixon and Mercedes Lackey are our featured guests. We're also thrilled to announce that S. J. Tucker will be joining us at ZOECon as a special musical guest! Her music suffuses Strowlers and we can't wait to share her newest songs with you. The premiere of the Strowlers pilot episode, which includes THREE original songs by Sooj, plus a brief special musical performance, will be at 9pm on Friday, February 16. Tickets for the premiere are just $10. If you purchase a weekend pass at $40, the premiere is included!
STROWLERS is an urban fantasy show concept that tells the stories of "hypercreative malcontent[s]" who have the guts to believe in magic. Sooj is proud to support the project as a songwriter. Watch clips here. Learn more about the world here.
ZOECon 2018 is an exclusive gaming and film convention – only a limited number of tickets are available! – in the Pacific Northwest. We will have many great gaming options, screenings, panels with local film and game personalities, and we may even film a short film with you!
ZOE's focus on fan supported and creator distributed entertainment will ensure three days packed with independent games, films, and literature that were created through the passion and dedication of fans and creators.
Hotel rooms available! Get info online at https://zoecon.net/hotel-info/