It's a beautiful morning in Steamboat Springs, Colorado. Ryan and I will make our way south to New Mexico today, and I am very much looking forward to the drive. Hope you all get to see something beautiful today, too.
My concert in Albuquerque this Saturday still has room for you! Check it out and please help me spread the word if you can.
SATURDAY JULY 5 2014 – 7:30PM
Sooj and Helios
Tortuga Gallery
901 Edith Boulevard Southeast
Albuquerque, NM 87102
$10-$15 advance, $15 at the door
Get tickets here: http://soojandhelios.brownpapertickets.com/
Albuquerque's own magical dij-and-drums duo, Helios, featuring Rev Tsolwizar, opens the night! These rhythms are guaranteed to get you on your feet and dancing!
Doors open at 7:00pm
Music starts at 7:30pm
As promised, I'm writing you all to let you know that I've got THREE more shows confirmed for this month, one each for California, Oregon, and Washington. Here they are!
SATURDAY JULY 12 2014 – 7:00PM
Sooj joins Sharon Knight & Winter
Air and Fire, a Mystical Bazaar
13136 State Route 9
Boulder Creek, CA 95006
$20 advance,$25 at the door
Get tickets here!
Sooj's longtime friends Sharon Knight and Winter are allowing her to crash their Neofolk Romantique Full Moon Concert in Boulder Creek, CA! Join in the dance, and make it wild!
Sharon's distinctive voice and striking poetry have won her a loyal following across the country. Together with longtime collaborator Winter, she tours nationally several months out of the year, performing at festivals, masquerades, conventions, cafes, shops and house concerts. Their music has been heard on over 300 radio stations, enjoyed "top 10" status on MP3 and NAR charts, has been featured in three independent films, and captured the attention of major labels and independent labels alike. Sharon and Winter are the founding members of the gothic tribal folk metal band, Pandemonaeon, and they produce their own annual festival in California called Hexenfest. Winter has most recently played guitar on Blondie's latest album "Ghosts of Download," and has also produced and performed on Jessica Star's new album, "Mystical Creature."
Considering that Sharon and Winter's music has been described as "folktales that ran away with the Faeries at the turn of the century and took cover in an old trunk bound for the circus, which was then commandeered by pirates", you can imagine the kind of fantastic fusion promised by a shared show between the three of us.
TUESDAY JULY 15 2014 – 8PM
Sooj & the Feckin' Tinkers
Oberon's Threepenny Tavern
45 North Main Street
Ashland, OR 97520
$10 suggested donation
Friends of Sooj, the Feckin' Tinkers are a Tuesday mainstay at Oberon's Tavern – a lively duo comprised of Jeff "Dickens" Behrends on guitar and vocals, and Ingrid "Goblin Socks" Edstrom on bodhran drum and vocals. The infectious traditional and playfully modern Celtic music they play will have you stamping your feet and singing along!
Mischief is sure to be managed when we join forces! The Tinkers kick it up at 8pm, and I follow at 9pm, all for a donation of your choice! Come and join us at this unique and exceptional faery-friendly tavern in Ashland's Downtown Plaza!
Oberon's is a really nifty place, by the way. Here's their website: http://oberonstavern.com/
SUNDAY JULY 20 2014 – 4-9PM
Music Under the Trees
Pinecoon's Summer Stage
Redmond, WA
$20 RSVP
Please email betsy@betsytinney.com for directions and to reserve your space.
Join us for an epic house concert in the cool dappled shade of our backyard amphitheater in Redmond.
The music will go from 4 pm to 9 pm, with a short break for dinner in the middle. Doors open to the public at 3:30 PM.
Performing forces will include:
* S. J. Tucker with Betsy Tinney
* In Like a Lion (Clint McCune, Geli Wuerzner and Betsy Tinney)
* Flamboyant Mockingbird Pajamas (Kaede Tinney & band)
* Betsy Tinney (solo looped cello)
Suggested donation: $20 per person.
Reservations are strongly recommended. Please email betsy@betsytinney.com for directions and to reserve your space.
LAST AWESOME THING for today is this, which you can download for the price YOU choose: http://storybundle.com/music
What is this? I'm part of a massively awesome music and fiction download bundle that's available for 11 more days! My Ember Days album is part of the bundle, as is music from Abney Park, Heather Dale, Alexander James Adams, Pandora Celtica, and the Borderers. Authors on board who've contributed tasty things include Kevin J. Anderson, Kristine Kathryn Rusch, Peter J. Wacks & J. R. Boyett, and Rhiannon Paille, with bonuses from Peter J. Wacks & Steven L. Sears, Mike Baron, and more.
The more downloads of the bundle, the more goodies get unlocked!
If you want to hear FIVE out of the ten tracks I'm working on in the recording studio for my Stolen Season album, download the bundle and help me spread that link around between now and July 13!
Check out the link to see what you get with the initial download, and what you get as the downloads keep coming in and unlocking bonuses:
http://storybundle.com/music
Once again, this thing goes away after July 13. Don't miss it!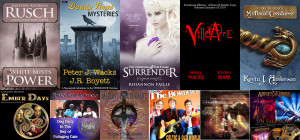 Thank you all for sharing your summer with me. Bright stars and sweet shade to you!