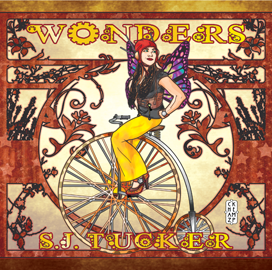 Jennifer Picker, Game Knights, Shawn & Nancy Lowery and Jerry Swan present S. J. Tucker live in Cape Girardeau for the first time! The Pixie Pirate Minstrel heads to beautiful Missouri to rock the house down at the Upper Deck's Lower Deck. A portion of proceeds from this concert will go to the Women's Safe House.
Tickets range from $8-$20.
$20 ticket holders get VIP seating, plus a special souvenir packet with a thank-you note from S. J.!
Doors open at 7pm for a meet-and-greet, and music starts at 8pm. Come on down!
Can't make it on Saturday? Come to Game Knights on Friday evening at 7pm for a shorter concert, plus autographing and Geek Girl Power Q&A session with S. J.! Everyone is welcome at both events.
Note: we've had several venue changes, but we're happy to say that the plan has at last come together! S. J. wishes to thank Jennifer and her whole team for their tenacity and awesomeness!
"S J Tucker is rather potent. Coming across like a fiery hybrid of Kristin Hersh and Fiona Apple and sometimes madly thrashing at her guitar, Tucker delivers a surprisingly energetic set."
-Kevin Renick
Backstage Pass
Playback (St. Louis)
This appearance will be part of Sooj's Tenth Year Tour celebration.  Come and help us celebrate!