When:
March 29, 2014 – March 30, 2014
all-day
2014-03-29T07:00:00+00:00
2014-03-30T07:00:00+00:00
Where:
Palmer House Hotel
17 East Monroe Street
Chicago, IL 60603
USA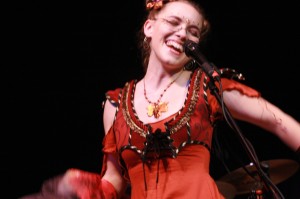 "Chi-Fi is happy to announce that we will be hosting our much-anticipated inaugural event, Chi-Fi 0, at the beautiful Hilton Palmer House Hotel in downtown Chicago on Saturday March 29, 2014. Chi-Fi 0 will beam down to the 6th floor beginning at 3:00 PM and going until Early Sunday morning at 3:00 AM. Chi-Fi 0 will offer fantastic musical acts, exciting guests of honor, panels, and programming on a wide range of subjects, as well as a large vendor area, many artists, and of course parties.
"Everyone who is pre-registered for 2015 will be able to register for free; Anyone else wanting to attend can register for $15.00 via the Chi-Fi website, chi-fi.org. We look forward to seeing everyone from everywhere there."
Sooj will perform in the evening, around 9pm.  Check out the other performers and guests here!