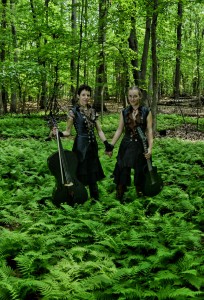 The LIVING EARTH center hosts the first of two concerts with Sooj and the lovely Betsy Tinney!
Singer-songwriter S. J. Tucker and cellist Betsy Tinney have performed and recorded together for eight years as fast friends and magical creatures, deftly weaving the Silly and the Sacred together for concert audiences from coast to coast. Both women are award-winning songwriters who work to bring joy and fantasy to all of the communities they touch. This year, Betsy celebrates the release of her first solo album, Release the Cello, and S. J. celebrates ten years as a full-time performer. The two of them are also members of the Faery Celtic trio, Tricky Pixie, with fiddler and showman Alexander James Adams. 
Doors open at 7:30pm and music starts at 8pm.  Ages ten and up, please.
NOTE: we strongly recommend buying tickets in advance, since space at Living Earth is limited. Both shows are likely to sell out!