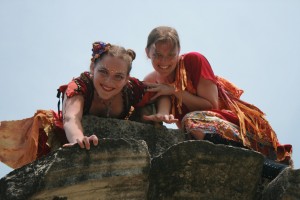 LIVING EARTH presents a second concert with Heather and Sooj!
HEATHER DALE and S.J. TUCKER are beautiful badass myth-makers who sing Celtic folk-rock songs about mischief and magic. Hailing from Canada and the American South, their four-piece band tours
all over North America & Europe — and you won't want to miss their wild, joyful, boot-stompin' romp into the strange worlds of King Arthur, Fairyland, medieval France, Merry Olde England, Oz, Neverland, and our own hopeful hearts.  Join in the magic this November 22 and 23, as this fun and funky tour stops in Denver.
Doors open at 7:30pm and music starts at 8pm.  Ages ten and up, please.
NOTE: we strongly recommend buying tickets in advance, since space at Living Earth is limited. Both shows are likely to sell out!