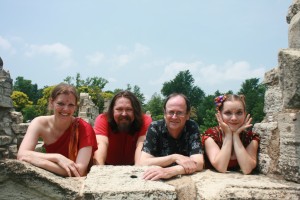 The Hammertown Pagan Moot is PLEASED to present Heather Dale and SJ Tucker along with Ben Deschamps and John Stadtlander for an evening of music, myth and magic!
Ticket Price:
$25/person for the whole event – 5pm
$5/at the door for concert only – 7pm
PURCHASING TICKETS: Tickets are available at our upcoming moots. OR, you can pay by paypal or by e-transfer to mercurial.epithets(at)gmail.com.
Purchase deadline: April 13, 2014
When paying, please be sure to tell us what meal you choose.
Be sure to get your tickets early, as we expect this moot to sell out!
A meal ticket will give you the choice between:
1) turkey
2) vegetarian stuffed peppers
3) meatloaf made with high quality beef
Each meal will include potatoes and mixed vegetables. In addition, the Moot Committee will be supplying dessert.  There will be door prizes and a free raffle ticket for those in period costume!