When:
July 25, 2017 @ 7:00 pm – 9:00 pm
2017-07-25T19:00:00-06:00
2017-07-25T21:00:00-06:00
Where:
The Room of Requirement (the Wagner Building)
209 Grand Ave
Laramie, WY 82070
USA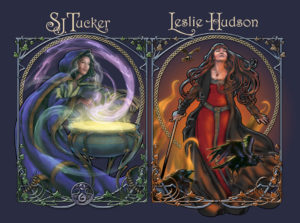 Or
Watch the livestream from home!
Singer-songwriters S. J. Tucker and Leslie Hudson are sharing the spotlight for the first time ever this summer as part of Leslie's #GoddessRevolution tour! Lusciously combined shows with these two powerful performers are scheduled in Oklahoma, New Mexico, Colorado, Wyoming, Utah, Montana, Washington state, and Oregon. Join us at their Laramie concert tonight, in the Room of Requirement's intimate listening space!
We have 40 seats available at the venue, and the concert will stream online via S. J.'s ConcertWindow channel. Doors will open at 6:30pm. Music will run from 7-9pm with a short intermission between sets. All are welcome! The Room is a few flights above street level, so if you or someone you would like to bring is mobility-impaired, please write or call ahead of time and we will have a manually operated elevator available.
Special thanks to Brett Glass!

Leslie Hudson is a powerhouse performer and prolific songwriter bringing rock, jazz, metal, blues, folk, filk and funk to conventions and venues across Canada and the USA. The body of her work illustrates the mosaic of the feminine spirit across culture, history and myth, digging into the dirt, traversing the shadows, and bringing the truth to light. Theres a Goddess Revolution going on and this rebel redhead is voicing the stories of characters who continue to inspire it, from archetypes to Inhumans, without apology. Hudson's influences, woven into her voice as well as her fingers on the keys, glide from Tori Amos to Loreena McKennitt, Metallica to Simon & Garfunkel. Armed with a synesthetic palette, she invites her listeners to see through the eyes of heroines, villains, lovers and liars alike, as she breathes new life into stories less often told.
In 2017 Leslie embarks on a six-month North American tour with stops in more than 20 states and 3 provinces. On tour as at home her performances range from solo shows to singer-songwriter showcases to 10-piece band showstoppers. Her recent albums are rooted in the diversity of sci fi, pop culture, folklore, myth, and the lessons life brings. Find out more at http://lesliehudson.com
"Hudson seeks to get under the skin of [her] characters, probe their fictitious souls and, through the raw power of her music, to make them flesh-and-blood, to honor them with real human angst. And the results are nothing short of spectacular." –Daniel Jun Kim, Pop Mythology
S. J. Tucker, self-motivated singer-songwriter, poet, author and actress, came flying out of the Memphis music scene in 2004, guitar in hand and voice at the ready, and her feet have hardly hit the ground since. Come Monsters, Misfits, and Mythpunks! Come Witches, Pirates, and Literati! Come Dreamers fair and Schemers foul! S. J. Tucker's got a song for you. Slinging every sort of tune from a Murder Ballad about robots and thieves to a Shapeshifters Riverboat Shanty, this steamy siren slings 'em all from her drumming hands, her dancing guitar, and her soaring voice.
On the road across the continent full time for a fourteenth year, S. J., called "Sooj" by fans and friends, deftly binds together the varied elements of jazz, folk, and fairytales in her original tunes. No two of her concerts are the same, but listeners and critics compare her guitar work to that of Emily Saliers, her vocal delivery to KT Tunstall and Joni Mitchell. The body of her recorded work spans more than thirteen years and features frequent guest performances by other hardworking indies. S. J. often travels solo, but also shares concerts with her 3-piece band Tricky Pixie, Toronto's Heather Dale Band, Seattle's Dogwood & Johnstone, and now the lovely Leslie Hudson!
"Tucker is not only fantastic; shes like a character out of a fantasy novel. She weaves myth and magic into her lyrics as easily as a strain of cello, a lick of something electric, the chuffing of a train engine…Tucker has a knack no, a genius for weaving old ways with new." -C. S. E. Cooney, Blackgate.com