When:
February 9, 2018 @ 5:00 pm – 8:00 pm
2018-02-09T17:00:00-06:00
2018-02-09T20:00:00-06:00
Where:
Butler Center Gallery
401 President Clinton Ave
Little Rock, AR 72201
USA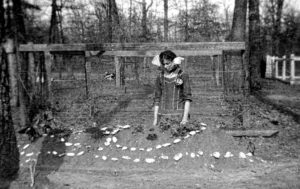 "Delta: Rediscovered," images of early life (circa 1880-1924) in Arkansas's White River Delta by photographer Dayton Bowers, opens Friday, February 9, 2018, in the Butler Center Gallery. The Butler Center, 401 President Clinton Avenue in downtown Little Rock, celebrates this 2nd Friday Art Night event from 5 – 8 pm with music, refreshments, art and art lovers.
Photographer Dayton Bowers chronicled the rise of prosperity in the Delta and operated Arkansas's first known photography studio, located in DeWitt. Bowers's images reflect pride of place and a deep connection to nature and family. Bowers directly influenced notable Arkansas photographer Mike DisFarmer, who grew up in Arkansas County.
Exhibit curator Denise Parkinson, author of Daughter of the White River (History Press, 2013) will also screen a short (9-minute) documentary film adaptation of her book, which focuses on the little-known history of Arkansas's River People and tragic heroine Helen Spence. Bowers's photography—central to the book and film—includes a circa-1916 portrait of Helen Spence. The documentary project marks the debut of "Look to the Water," an original song by Arkansas singer/songwriter S. J. Tucker, who will also be on hand for the opening reception.
Delta: Rediscovered will be on display through April 28, 2018, at the Butler Center Gallery. The Butler Center houses the Dayton Bowers photographic archive, donated by Hot Springs historian LC Brown in memoriam of his late wife, Anna Grace Bowers Brown. The Anna Grace Bowers Brown Manuscript Collection contains 200 Dayton Bowers photographs, postcards and tintypes.
Delta: Rediscovered is made possible by grants from the Department of Arkansas Heritage and The Morris Foundation. For more information, visit www.dwparkinson.com or search on Facebook for The Rediscovered Archives of Dayton Bowers.