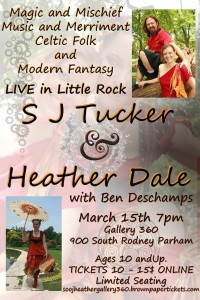 Space is limited! Get tickets here.
HEATHER DALE and S.J. TUCKER are beautiful, badass myth-makers who sing Celtic folk-rock songs about mischief and magic. Hailing from Toronto and the Delta, they tour all over North America & Europe, together and apart  and you won't want to miss their joyful, boot-stompin' romp into the strange worlds of King Arthur, Fairyland, medieval France, Merry Olde England, Oz, Neverland, and our own hopeful hearts. Join in the magic this Ides of March at the corner of Rodney Parham and I-630, as this fun and funky tour stops in Little Rock for one evening only. While you're there, get a load of Gallery360s exhibit opening Feb 22: Fascination, by artists Anna Tanner and Kelley Naylor Wise.
This show will also feature Heather's long-time songwriting partner, Ben Deschamps of Toronto.
The gallery is at 900 South Rodney Parham Road in Little Rock, Arkansas. That's south of the Mississippi Road / Rodney Parham / I-630 interchange, just past Kanis Park. Look for the big 360 sign and the gargoyle face on the side of the building.
Overflow parking is available down the street at Vestcom. Please bring a chair. Doors open at 6:30pm, and music starts at 7:00pm. Ages ten and up, please.  NOTE: ONLY 40 SEATS AVAILABLE! Please purchase your tickets in advance.