When:
December 19, 2022 @ 7:30 pm – 10:30 pm
2022-12-19T19:30:00-06:00
2022-12-19T22:30:00-06:00
Where:
George's Majestic Lounge
519 W Dickson St Fayetteville
AR 72701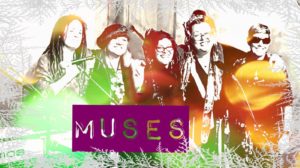 Arkansas-based musicians Ginger Doss, Renée Janski, Ronda Jean, Lynda Millard, and S. J. Tucker join forces to make musical holiday magic on their hometown George's stage this December! The MUSES are home for the holidays! Join us!
Renée, Ginger, Lynda, S. J., and Ronda shared their
#MusesontheRoad
Tour for the first time in Autumn 2017, bringing the jazzy, bluesy, original tunes by the group's FOUR songwriters all the way from Arkansas to the west coast and back! This holiday season, they're bringing the magic home!
-The delicious Renée Janski & her wife Ronda Jean are excited to work with their song siblings for this special show. Fall under the spell of Renée's gutsy piano, her rich voice, and more at
reneejanski.com
and catch Ronda Jean revving up the crowd or gliding onto the stage to play bass!
– The music of award-winning singer-songwriter Ginger Doss transforms a lifelong spiritual quest into musical expression ranging from funky tribal jams to the tender ballad, and beyond. Magic fingers transform the many sounds of the keyboard into sparkling waves of bliss as Ginger weaves their melodic spell with rocking grooves and spine-tingling vocals!
gingerdoss.com
– Lynda Millard is an accomplished singer-songwriter whose career spans many successful original band projects, in which she contributed her life-changing songwriting, signature bass playing, vocal prowess, and heart-stopping command of the flute.
gingerdoss.com/lynda-millard
-With deft guitar, skillful hand drums, and a river siren's compelling vocals, the mischievous S. J. Tucker wields an award-winning body of original music inspired by everything from beloved book characters to the turmoil of current events. Listen free & join the fan family at
sjtucker.com
Join us at this nourishing revel FOR ONE NIGHT ONLY at George's Majestic Lounge in Fayetteville, December 19, 2022! Doors open at 6pm and music starts at 7:30. 18+
Come and enjoy! Come shake the dust off your spirit, spread your wings, raise your voice, and sing!