When:
June 16, 2019 @ 6:00 pm – 8:00 pm
2019-06-16T18:00:00-05:00
2019-06-16T20:00:00-05:00
Where:
Sooj's Concert Window channel
http://www.concertwindow.com/sjtuckermusic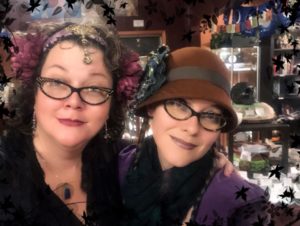 Set your own price & watch on the screen of your choice! Sooj shares this show with her good friend, her #MusesontheRoad bandmate, and "Beetz in my Salad" co-creatrix Renée Janski!
Zeze Oiseau is the sassy, sexy, musical fusion of Glamazon rockstar Renée Janski and Mythpunk siren S. J. Tucker. With big bold backgrounds in the world opera scene, theatre, gospel, rock, and the vibrant witchy festival circuit here in the USA, these two snazzy songbirds combine their powers to present a goddess's ransom of shimmy-worthy original tunes on keys and guitar. Both born & raised amid the lush landscapes of Arkansas, Sooj and Renée have separately traveled the world & won many awards for songwriting & performance, but they've stayed 100% authentic and approachable, always seeking to lift the spirit when they lift their voices, and to fire the soul as they share songs with us and with each other. Get on in here and soak it up.