When:
September 26, 2021 @ 3:00 pm – 4:30 pm
2021-09-26T15:00:00-05:00
2021-09-26T16:30:00-05:00
Where:
Online Concert Thing
https://onlineconcertthing.com/product/queens-of-avalon-screening-2021-09-26-0400-pm-edt/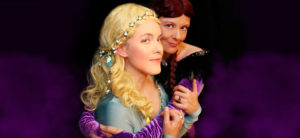 The Queens of Avalon musical, written by and featuring OCT favorites S. J. Tucker and Heather Dale, revisits the famous stories of Camelot… but surprisingly reinterpreted from a woman's perspective. Both destined to become queens, Guinevere and Morgana meet as girls and become fast friends. They come of age together, and vow to change the dragon's curse that overshadows Morgana's life. The fate of kingdoms lies in their hands!
Join Sooj, Heather, and other folx from the original Queens of Avalon production team as we travel back to Avalon and Camelot together for an online watch party of the filmed stage production we created together back in 2015, with the help of our tiny, amazing crew and crowdfunding supporters the world over! Heckling & feelings are welcome in the live chat, as we're sure to offer up all of those things, ourselves! Very special Avalon-themed merch will be on offer from both queens for this show only!