When:
October 31, 2021 @ 2:00 pm – 3:45 pm
2021-10-31T14:00:00-05:00
2021-10-31T15:45:00-05:00
Where:
Online Concert Thing
https://onlineconcertthing.com/product/s-j-tucker-2021-10-31-0200-pm-cdt/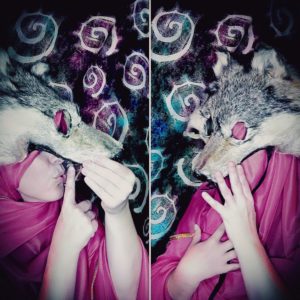 It's time.
The shadows are alive with whispers and crackling with songs.
Do you know your way to the secret celebration in the Wild Old Woods?
Join witchy rockstar S. J. Tucker for some of her spookiest tunes, plus a NEW performance of her favorite Red Riding Hood story, "Gramma Wolf's Garden"!
S. J. adores writing music to help our collective imagination come alive, with magic in every phrase. Come and honor Samhain and/or All Hallows Eve with a blend of the spooky, the silly, and the sacred, as only Sooj can serve it up. And don't worry about stepping off the path- just be your true self, and you'll be the biggest, baddest thing in the whole enchanted forest. AaarrroOOooOOoo!
This show is scheduled in the afternoon here in North America, so that no one will have to choose between the music and Halloween Night trick-or-treating.
First time at Online Concert Thing? Here's a helpful video on getting your ticket.
Any trouble getting your ticket or logging on? Message ben@onlineconcertthing.com right away.
After the show, S. J. will donate a portion of ticket sales to the Survivors Project at Mid-South Immigration Advocates: https://miamemphis.org/survivors-project/