When:
April 29, 2023 @ 2:00 pm – 3:30 pm
2023-04-29T14:00:00-05:00
2023-04-29T15:30:00-05:00
Where:
Online Concert Thing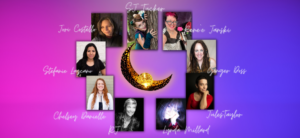 GET TICKETS for this cozy online extravaganza featuring Renée Janski, Ginger Doss, Lynda Millard, S. J. Tucker, Ronda Jean, Chelsey Danielle, Jori Costello, and Jules Taylor! Replay April 29 at 2pm Central!
APRIL 27 9pm CT
APRIL 29 2PM CT (replay)
$20 suggested! (one ticket=access to both showings!)
Musical performances and more by Renée Janski, S. J. Tucker, Ginger Doss, Jules Taylor, Lynda Millard, Ronda Jean, Chelsey Daniele, Stefanie Lazcano, and Jori Costello!
We're gonna get together on location and make some moonlit musical magic for y'all in honor of April's lunar cycle and Renée & Ginger's Aries birthdays! Each one of us is an innovator and a mischief maker in our creative fields (music, radio, film, theatre, poetry, and more), and we all love the heck out of each other. Come join us as we go off script to entertain you- and each other! There may never be another night like this! Hope you can join us for this very special show!