When:
February 25, 2023 @ 2:00 pm – 3:30 pm
2023-02-25T14:00:00-06:00
2023-02-25T15:30:00-06:00
Where:
Online Concert Thing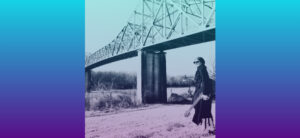 Feb 23 9pm Central AND/OR Feb 25 2pm Central: one $5 ticket gets you access to both showings!
Southern sassy songbird S. J. Tucker brings a special birthday concert & documentary screening to Online Concert Thing, with an appearance by author/director Denise Parkinson!
S. J. was captivated by the life story of the late Helen Spence, a young woman raised on Arkansas' White River 1912-1934 (not far from where Sooj herself was raised), from the moment she picked up Denise Parkinson's book, Daughter of the White River: Depression-era Treachery and Vengeance in the Arkansas Delta. At age seventeen, Helen avenged her father's death, bringing the full force of River Justice to Arkansas County. Newspapers leapt upon the chance to sensationalize her story, comparing her to other outlaws of the day such as Bonnie & Clyde when she was no such thing. Though she faced a choice between concubinage & imprisonment at a very young age, her spirit never broke. This is but one reason why we share her story with you, nearly a century later.
S. J. will kick off the experience with a concert set of her original songs all inspired by the River and by fairytale princesses who rescue themselves. Denise will appear on camera as well, to discuss her book, Daughter of the White River, and the grassroots-made documentary of the same name. Act two of the presentation will be a commemorative online showing of the documentary film (runtime 50 minutes) in honor of Denise's early February birthday and of Helen's and S. J.'s birthdays, which are one day apart. Listen carefully for S. J.'s music in the film!
S. J. says of Denise, "a gifted writer and a tireless advocate of Arkansas stories which must be told, especially of the River People's lost legacy."
Denise describes S. J. as "an equal opportunity entrancer and vibe enhancer, and a credit to her Delta upbringing."
Exclusive media downloads will be available in honor of this show, including the documentary film, limited edition artwork, S. J.'s music, and the Daughter of the White River audiobook, produced & narrated by S. J.
With equal parts cooperation, tech, and magic, S. J. and Denise are pleased to bring this unique event to your screen! Let us show you where we come from, and introduce you to our forever muse, Helen Spence. Join us on a virtual visit to the Lower White River in song and film.
Any trouble getting your ticket or logging on? Message ben@onlineconcertthing.com right away. (Writing to Ben is your best bet, especially on concert day, because anyone who'd be checking messages or comments here will have their hands full over at the concert link.)