When:
January 31, 2018 @ 7:00 pm – 8:00 pm
2018-01-31T19:00:00-06:00
2018-01-31T20:00:00-06:00
Where:
Sooj's Concert Window Channel
https://www.concertwindow.com/sjtuckermusic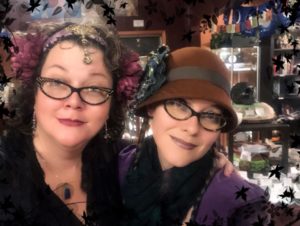 Tonight marks a Full Blue Moon, a Super Moon, a Total Lunar Eclipse, AND Sooj's wedding anniversary, so you know we had to throw ourselves a party- and one with room for everybody, thanks to the coolest Concert hosting platform on the internet! Zeze Oiseau is the sassy, sexy, musical fusion of Glamazon Goddess Renée Janski and Pixie Queen S. J. Tucker. Join us for a Super Moon's ransom of shimmy-worthy original tunes on piano and guitar, shared by these two snazzy songbirds, who seek always to lift the spirit when they lift their voices, and to fire the soul as they share songs with us and with each other.
Barring any tech troubles, the broadcast will begin at 7pm Central, 8pm Eastern (6Mtn, 5Pacific). We'll keep it close to one hour in length so that everyone has plenty of night left during which to see that beautiful moon!
Concert Window allows artists to interact with fans via chat as they perform, and it also allows us to offer you goodies for your support! For this show, we have some exclusive, one-of-a-kind tip rewards in mind, tied in with the magic of the Super Blue Moon and the Lunar Eclipse. Check out the channel to learn more!