When:
December 20, 2021 @ 9:00 pm – 10:30 pm
2021-12-20T21:00:00-06:00
2021-12-20T22:30:00-06:00
Where:
Online Concert Thing
ticket link coming soon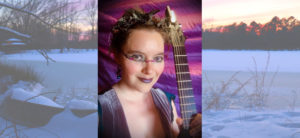 Ticket link coming soon!
Midwinter Muse: S. J. Tucker in Concert
Monday, December 20, 2021
9pm Central
$5 and up
Gather round the fire this Midwinter's Eve and let singer & storyteller S. J. Tucker beguile your spirit and warm your soul with folklore- and myth-inspired songs that run the spectrum from chilly to silly to sacred and back again. The Mari Lwyd walks the streets of Wales, singing with her entourage and demanding snacks! Krampus stalks the night for naughty children! The Oak King and the Holly King trade blows while yet remaining brothers and, despite our fears, the winter sun will rise again on Solstice morning. Come, celebrate, and enjoy. You bring the cocoa; Sooj will bring the sparkle.