When:
2022-07-28T00:00:00-05:00
2022-07-29T00:00:00-05:00
Where:
Online Concert Thing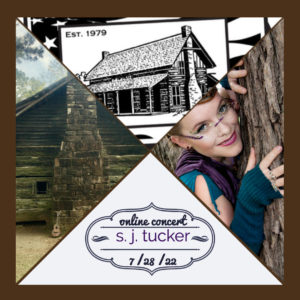 S. J. TUCKER IN CONCERT ONLINE: SULTRY SUMMER NIGHT (AT THE MUSEUM)
TWO SHOWTIMES:
Thursday, July 28, 2022: 2pm & 9pm Central
(One ticket gets you in to both showings so that you may attend whichever one suits your schedule!)
S. J.'s going on location for this special performance, all the way back to her hometown, and she's taking us along! Sooj has given plenty of shows through the years in coffee shops, bookstores, college canteens, libraries, and once even a bank vault, but have you ever been to a concert in a museum? Now's your chance to check out one of S. J.'s favorite museums, a place where she spent time almost daily as a child, as well as her excellent, enchanting, welcoming songs!
If all goes well, S. J. will donate a portion of ticket sales to the Desha County Museum as well as Arkansas Abortion Support Network. Door prizes will be available, and online shows never run out of seats! Join us!