When:
September 2, 2022 – September 5, 2022
all-day
2022-09-02T00:00:00-07:00
2022-09-06T00:00:00-07:00
Where:
DoubleTree by Hilton Hotel Phoenix Tempe
2100 S Priest Drive
Tempe
AZ 85282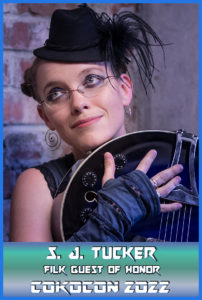 CoKoCon is a traditional science fiction/fantasy convention in the Phoenix, AZ metropolitan area, which will return to the Labor Day weekend for a fifth year in 2022. COVID permitting, we're back to a being a physical event.
We'll be hosting guests of honor, an art show, dealers' room, gaming, filk, room parties, you name it! As with all sf/f cons, the heart of the event will be our ConSuite, which all members are welcome to visit for free food, drink and conversation.
We're capping membership at 500.
Our convention block is now open and rooms can now be booked at our discount rates through this link.
Rooms are $92/night (single and double), $102 (triple) or $112 (quad).
At this point, and being unsure of the future, we are planning on requiring COVID vaccination to attend. Mask requirements will be considered as we get closer to the event itself based on the current, at that time, COVID status.