When:
April 23, 2019 @ 8:00 pm – 10:00 pm
2019-04-23T20:00:00-05:00
2019-04-23T22:00:00-05:00
Where:
Sooj's Concert Window Channel
http://www.concertwindow.com/sjtuckermusic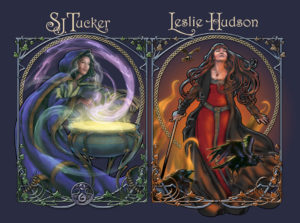 Join us on Earth Day as two tour-sisters reunite for one show only to reminisce and rekindle. We are ridiculously excited to do this and to share our fun with all of you, wherever you may be. You don't want to miss it! Set your own price and watch from the screen of your choice, ham it up with us in the chat, and enjoy! Shared and separate tip rewards will be on offer, featuring music and goodies from both Leslie and Sooj. Music starts at 8pm and runs until 10pm Central.
Leslie Hudson, who first shared shows with Sooj in 2017, is what happens when Tori Amos and Loreena McKennitt swap set lists, and folktales become character studies of the female psyche. A powerhouse vocalist with piano in tow, this endlessly touring musician is wending her way from the west coast home to ON playing songs that illustrate the Inner Circle of the mind, aspects to which we give voice. With inspiration drawn from life, history, myth and pop culture, this award-winning songwriter cuts deep to the marrow of story and sings it to the surface. Raw passion, arresting performance, music that matters.
More dates on her PSYCHE TOUR: http://lesliehudson.com