When:
November 9, 2014 @ 6:00 pm – 8:00 pm
2014-11-09T18:00:00-08:00
2014-11-09T20:00:00-08:00
Where:
The New Deal Cafe
113 Centerway
Greenbelt, MD 20770
USA

Cost:
Donation of your choice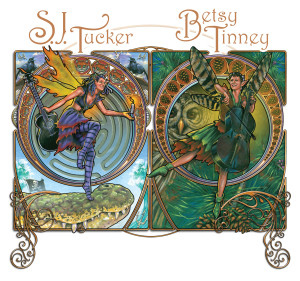 The Pixie Pirate Minstrel Grrl returns to the New Deal with her favorite Cellist, both of them fresh from FaerieCon!  Don't miss it!  Special guest drummer Ken Om Crampton will join the fun, also!
Sooj's first time performing at the New Deal with this year on May 11, and it was so grand that she booked a follow-up show on the spot.  Hope you can make it!  The food is delectable Mediterranean, the staff are sweet, the drinks are tasty, and the music is gonna be fun and unforgettable!
The New Deal Cafe has a very civilized musician-tipping system: each table has its own Musician's Tips box, and all of the love and moolah you can fit into each box goes directly to the performers.  This means that there's no cover charge, ever, and you can give exactly what you choose!
New character art of Sooj & Betsy courtesy of the delightful Herb Leonhard!