When:
January 14, 2022 @ 6:00 pm – 7:15 pm
2022-01-14T18:00:00-06:00
2022-01-14T19:15:00-06:00
Where:
Online Concert Thing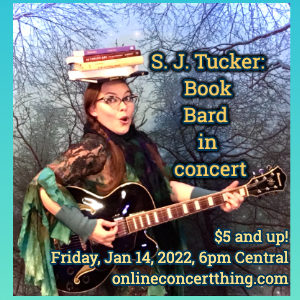 S. J. Tucker, Book Bard In Concert
Friday, January 14, 2022
6pm Central
$5 and up!
Indie Songwriter and Bookworm S. J. Tucker is thrilled to bring you this concert in collaboration with the Dubuque County Library District: come for the music, stay for the book rec's! Sooj will perform her own original music with the goal of granting new insight & mischief into works of fantasy & literature, songs with their roots in some of the stories she loves best. This will be a family-friendly concert, so all ages are welcome! Special thanks to Jenn Matters of the Dubuque County Libraries for her help in setting up this show!