When:
October 26, 2023 – October 29, 2023
all-day
2023-10-26T00:00:00-07:00
2023-10-30T00:00:00-07:00
Where:
Saratoga Springs Retreat Center
10243 SARATOGA SPRINGS ROAD
UPPER LAKE
CA 95485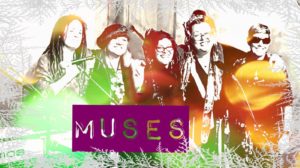 Find Festival Info here. Ticket price options and info here. Get tickets here.
FINALLY! From the Ozarks to the West Coast, Sooj returns to Hexenfest with the whole pack of Muses! Expect a bandmate convergence like no other when S. J., Ginger, Lynda, and Renée get together again with Sharon Knight & Winter for the first time in many years!
THINGS TO KNOW
Hexenfest is a small festival of myth, music, and magic. About 200 people attend. Our new venue can support 350 easily, and we hope to grow into that.
Hexenfest is located at Saratoga Springs in Lake County, California, in a valley. As such it is in shade for a good portion of the day, but not the entire day. There are plenty of shady spots to camp. Unless you are camped directly under a tree, you will get sun in the morning. It is a good idea to bring additional shade support. Although things are cooling off by October, there could be a heat spell. Hence the large, wonderful swimming pool!
Fire Danger in this area is EXTREME. We must be impeccable in this regard, and only smoke or use fire in the designated areas. Individual campfires are not allowed for this reason. Use of sage, incense, or anything involving fire is also not allowed. Please respect this. One spark is all it takes. Saratoga Springs has fire prevention and evacuation protocols in place. Let's do our best to ensure we don't need them.
All ticket sales are final. Please understand we are a small, independent event, and we make decisions on behalf of the festival as money comes in. If you are unable to attend, you are responsible for re-selling your ticket. We will assist your resale efforts via our social media channels, and if you are unable to resell we will honor your ticket the following year. Campsites are available on a first come first served basis. We cannot reserve specific spots for anyone. Come early and stake your claim. If you can't get there early, send an emissary from your camp to grab a spot. There are PLENTY for a group of our size.
We do not tolerate racism, transphobia, sexism, or related behaviors. We value consent culture. Please read our policies on culture and consent at hexenfest.net (Spoiler alert: they say "Don't be a dick").
All bathrooms at Hexenfest are gender neutral.
Is Hexenfest ADA-friendly? Honestly, it could be better. Saratoga Springs is a vast improvement over our last venue, but some have said it is too far to walk from place to place. We will have shuttles running this year to help with this. We are keeping our eyes open for a venue with a more ADA-conducive layout, but finding anything remotely affordable in California has proven difficult.
We have internet this year! This will make the vendors happy. However, bringing cash for vendors is always appreciated.
Water from spigots is not potable. There is potable water on site and you will be directed to it.
Smoke in designated areas only. Do NOT leave cigarette butts lying around. Saratoga Springs will fine us $10 PER BUTT that they have to pick up! Pets are not allowed at Saratoga Springs.