It's been a grand and gentle summer thus far.  Hope this is true for you as you read, as well.
Since I left home on June 18, I've played seven shows, with the eighth coming up tonight at 8pm in Ashland, Oregon.  Between gigs, I've gotten to do a fair amount of hiking in beautiful places, I've carved out a bit of time for yoga and dance, and I've spent some quality time with dear friends in several different cities and pieces of country paradise.  It's a beautiful afternoon in Ashland today.
A few years back, I realized I was working myself much too hard and I needed to make some changes.  There's a lot of guesswork involved in finding out what's enough and what's too much, where travel and giving all you've got is concerned.  So far, this second tour of my tenth year has been a very rewarding experiment in working enough to be happy, but not working so much that I wear myself down.  Not for the faint of heart, but necessary, and good.
Shows coming up include a good one in Redmond, Washington, the Faerieworlds festival in Oregon, a harvest celebration in Centralia, Washington, and next month back home via Missoula Montana, Denver, and Lincoln Nebraska.  Tour schedule's gonna continue to look pretty good.  Check it out here.
Happy thoughts:
1. I can't recommend enough taking the time to drive US Hwy 89A through Arizona's Vermillion Cliffs area.  Being chased across desert valleys by feisty little thunderstorms is a pretty neat side benefit, too.  I'm an amateur photographer, and I almost got us caught by said thunderstorms more than once, hunting beautiful shots of the majesty around me.  You can see some of my photos from that drive in amongst my Facebook photos.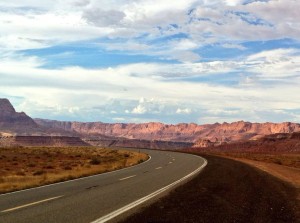 2. Hiking in Zion National Park, Utah is not to be missed.  Not as busy as Yosemite or the Grand Canyon in the summer, it's a mix of severe red and white cliffs and verdant river valleys.  There are pretty, paved trails as well as rugged unpaved hikes, so there's something for almost everybody.  Ryan and I want to go back there sometime and hike The Narrows, on a day when there isn't a flash flood watch.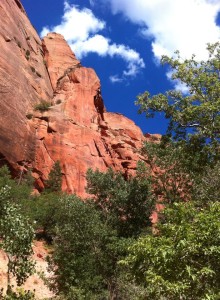 3.  Flip over to the tech side of things for a second.  My friend Kris Klink in Denver, aka HatDragon Studios' primary coder, just released a word search app in the Apple Store, and I can't stop playing it.  It's called Mythos, and it's a mythology-focused word search.  So, yeah.  There's my geek flavor showing a little bit.  Check out the app here.