Since Facebook is standing up for Marriage Equality today by passing around this image, courtesy of the Human Rights Campaign…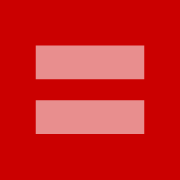 I thought I'd put on my red hood again, and start asking around the forest whether anyone's seen any wolves lately.
One of the cool things about being a creative person is meeting and collaborating with other creative people.
A couple of years ago, my high school buddy Sean-Michael Argo clawed his way back into my sphere of awareness, like the Creature from the Black Lagoon that he is- Sean makes movies.  Bloody, gross, low-budget movies.   I hadn't seen him in thirteen years, and we agreed that it was time to do some catching up.  (This was long before Ember Days & the album that followed, of course.)
One day, we took ourselves up to Mount Rainier with an expensive camera, a borrowed rapier, and some of our favorite people, to film a trailer for a movie we still haven't gotten to make together- a retelling of Red Riding Hood.
It's been done.  We know that.  It's been done with Red as a strong female protagonist with revenge on her mind.  We know that.  It's been done with a little bit of Steampunk.  We know that.
But we're still hoping that, one day, whether or not it actually becomes a movie (a photo series, a novel, and a concept album are also strong possibilities), we can tell this story the rest of the way.
So here's me, running around on a volcano with a sword, wearin' the red.  Sharing with you today in honor of Human Rights and Marriage Equality.  Music and VO by me, rapier graciously lent by Torrey Stenmark, camera assist by Rhake Winter, editing badassery by K' Wiley, gripped by Rainbow Rex, directed by Mr. Argo.
You can read Sean's version of the story at his blog.
I still have that coat. (smile)