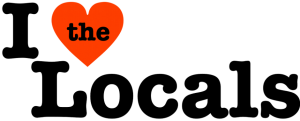 My very favorite local place to give concerts is closing after Christmas eve this year.  It's been almost exactly 365 days since I first walked through their door and shared a show with Big Bad Gina on their beautiful stage.
That sort of news is always sad news.
But I've gotta hand it to Sandra, Beth, Hector, and the rest of the La Lucha/The Locals team.
In one of the classiest "measure your success" moves I've seen in a while, they're not closing up shop and fading away.  Not even close.  They're preparing to go nomadic within the community, and continuing to kick butt and raise awareness and support for local farmers and crafters.  "A recently awarded Local Food Promotion grant will allow the organization to continue supporting local producers, and connecting the community to local food, art, and culture.
"The USDA's Agricultural Marketing Services grant will infuse Conway with more than $90,000 to create a local food aggregation hub and to implement pop-up farmers markets in diverse locations around town. This program has two objectives; the first is to increase the volume of food small local farmers can sell in Conway by providing an aggregation point and by helping to manage relationships between farmers, local restaurants, and other institutional buyers. "We will also continue to develop excitement and consumer education around the local food movement through pop-up farmers markets" says Director Sandra Leyva. In the Spring and Summer of 2015, the organization will be planning and implementing pop-up markets complete with street musicians, artisan goods and an attractive bike-mobile–a pedal powered cart that will allow for easy transportation and display of fresh produce."
Sounds like a great party to me. 🙂
Read the rest and become part of the movement here.  Keep an eye on the website as plots and schemes develop for 2015.  I'm gonna do my best to stay tapped in.  I really believe in what's happening here.
Those of you who are local to Conway, mark your calendars for this weekend, December 13.  December 13th from 11am to 7pm is "Shop The Locals Day", an open-house style event in which some of the more than 20 producer members will be present to chat with the people who buy and enjoy the fibre arts, soap, pottery, treats, and goodies they make. Don't miss your last chance to check out The Locals on Van Ronkle and show your love for the community space.
I'm pitifully sick with a cold today, but I'm guzzling Ozark Cold & Flu tea (which I picked up at The Locals on Tuesday, by the way) right now.  And I'm gonna keep on doing so, so that I can come out on Saturday to help celebrate this transition and my sweet, small-and-mighty community.
By the way, there's gonna be a kick-ass show there tonight, as well.  Head downtown if you're interested.  Go for me, because I'm contagious right now and don't wanna inflict this cold on my peeps, their peeps, or anyone at all.