Come see Catherynne M. Valente and me do our reading-concert roadshow Thursday, Oct. 1, hosted by Online Concert Thing! The fun starts at 8pm Eastern, Cat will read to us, I will sing to you, and we'll both offer some word goodies and some music goodies you can't get anywhere else. Click here for your ticket! If you don't yet know Cat's work, I highly recommend her Patreon. She and I have been friends for most of our adult lives at this point- the promo photo up there is from a tour we shared in 2009, and I write a lot of songs about her books.
And speaking of books…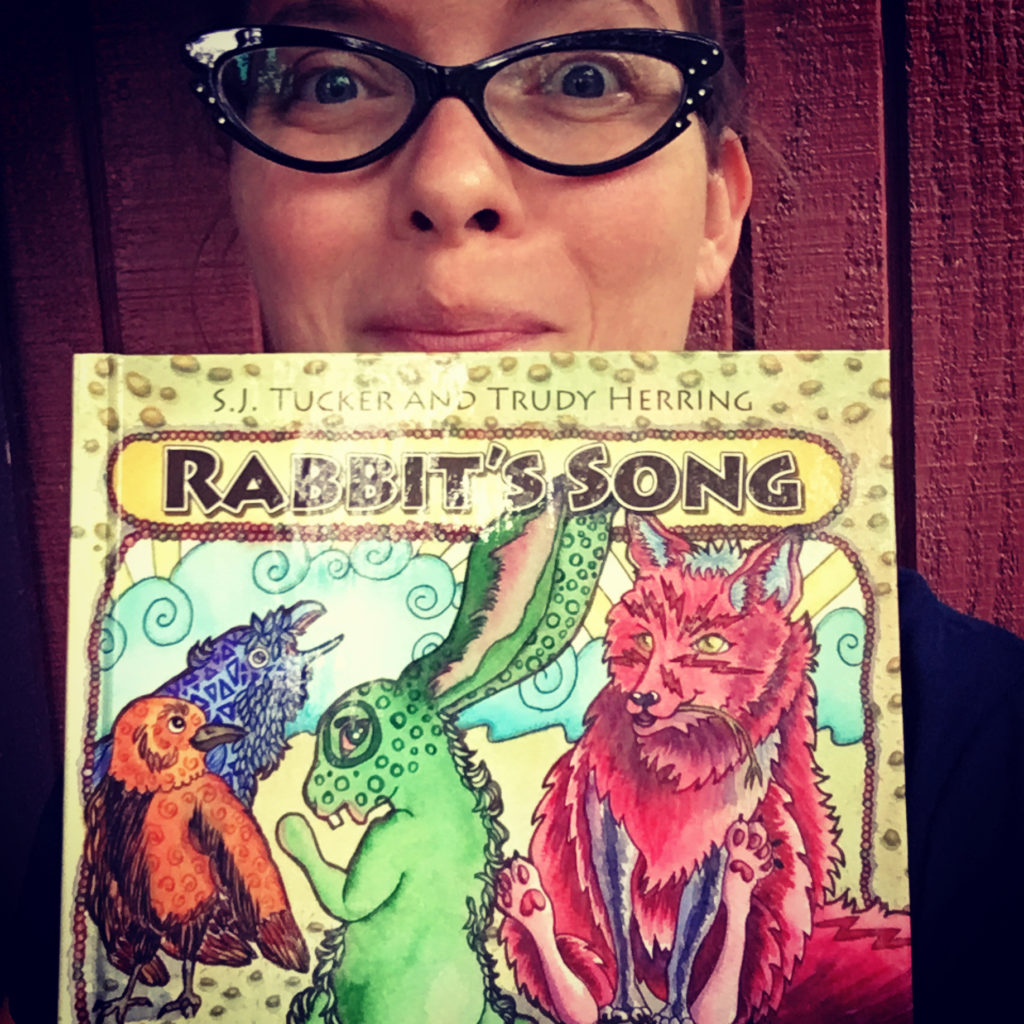 It's been eleven years since illustrator W. Lyon Martin, "Mama Dragon" Trudy Herring, and I created the Rabbit's Song children's book together. I realize some of you may not have known this even existed, but if you listen to my stuff, you've most likely heard the song. Well, this past week Lyon helped me acquire enough personal stock of the book that I can finally offer (signed!!) copies along with my CDs online! I'll make these available for purchase on Oct 2nd, which is the next Bandcamp Friday! From Midnight to Midnight Pacific, Bandcamp will defer their percentage so that musicians who sell their work on Bandcamp will get 100% of the money you spend on us that day. Here's my merch & downloads link!
And here's my cute work crew (Captain at the helm and Lil' Jesster as asst. tractor operator) bringing the pallet of books to my studio for me this past Wednesday.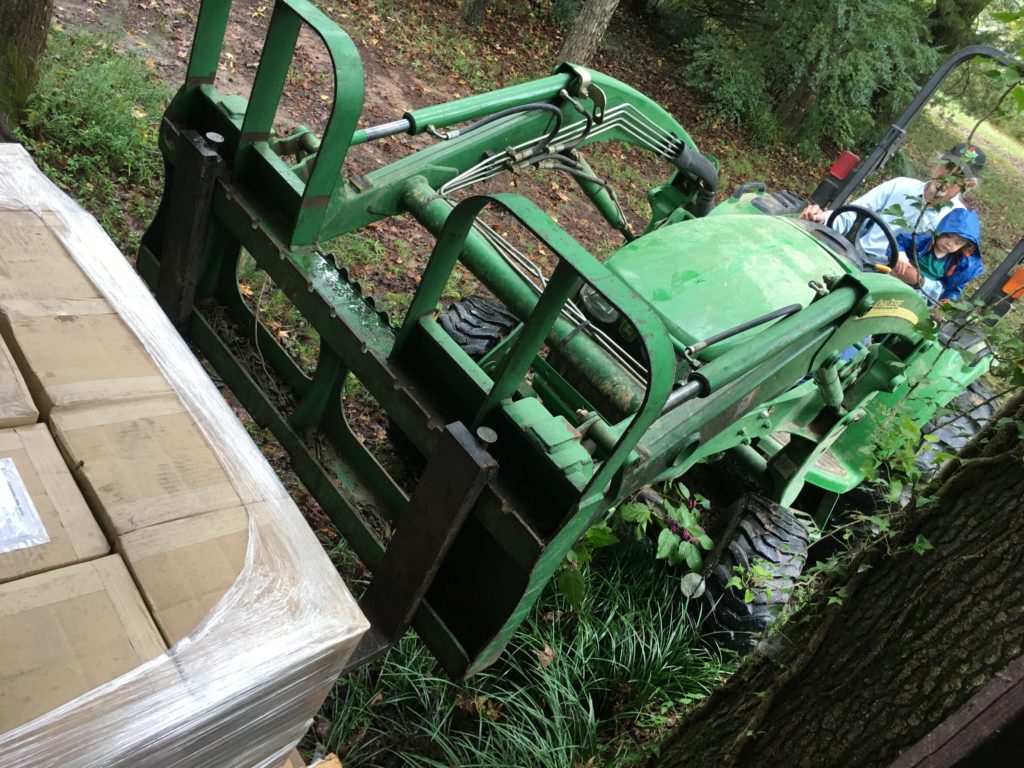 Meanwhile, podcast hosts dear to my heart have been as busy as the rest of us in these COVID19 times. Nightgaunt of The Ancient Wisdom Salvage Yard podcast interviewed me for episode 31, about my history, magical practice and music, and parenting for weirdos, among other things. We had a great visit, as we always have. Listen here or look the podcast up on your favorite app.
In more hyperlocal news, it's…ME! Reporter Courtney Lanning of the Northwest Arkansas Democrat-Gazette newspaper attended the online September 19 Pagan Pride Day show I shared with Heather Dale and Sharon Knight, and she wrote a sweet feature article about her experience of enjoying the music I make. Read it online here if you like! I've got some print copies coming my way because friends in town made it their personal mission to hunt them down for me.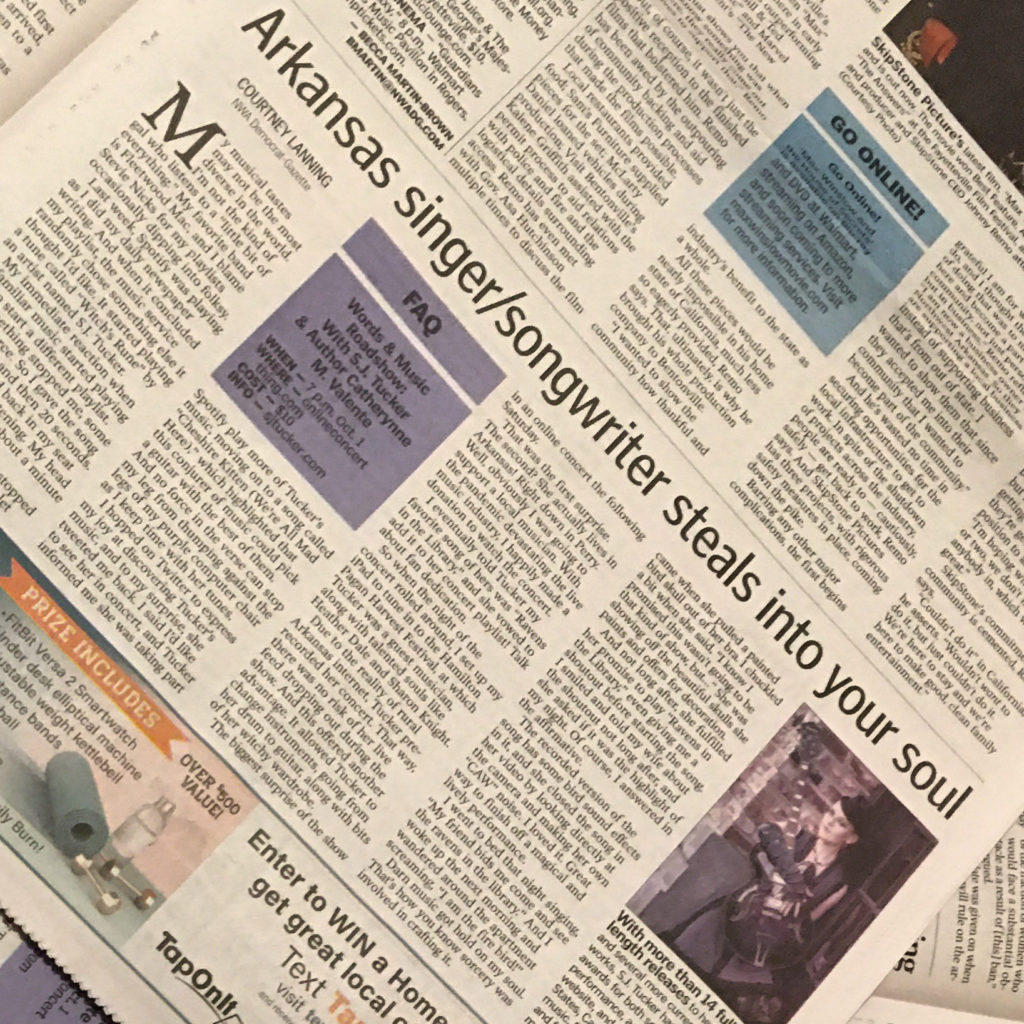 One last thing; I know I've loaded this post with a lot for y'all to take in. Remember how I have this devotion to the folklore and interesting history of the place I come from?
Remember how I wrote a song about, and then narrated for Audible Denise Parkinson's book about Arkansas' Depression-era folk hero Helen Ruth Spence, who only lived to be twenty-two years old?
Remember how I mentioned that Team Helen was hoping to produce and release a documentary film to accompany the book that would further celebrate the Arkansas Delta, the White River houseboat communities of the early 1900s, and Helen's brief, spirited life?
It's happening! Denise will host a watch party of "the author's cut" version of the documentary film in just a few days, and I'll be helping her get the word out about it! I'm also working out how to host downloads of a combo package to include this rough edit of the film and the music that Team Helen officially licensed from me early on! I'll hopefully be able to offer that combo as a download on October 2nd as well, at my same merch link, and also at the brand new River Sisters Productions page!
As far as I know, the watch party will be September 30, hosted by the DeWitt Era-Enterprise's Facebook page here, courtesy of podcast host Deane Marks. If that changes, I'll update this post to reflect the new info.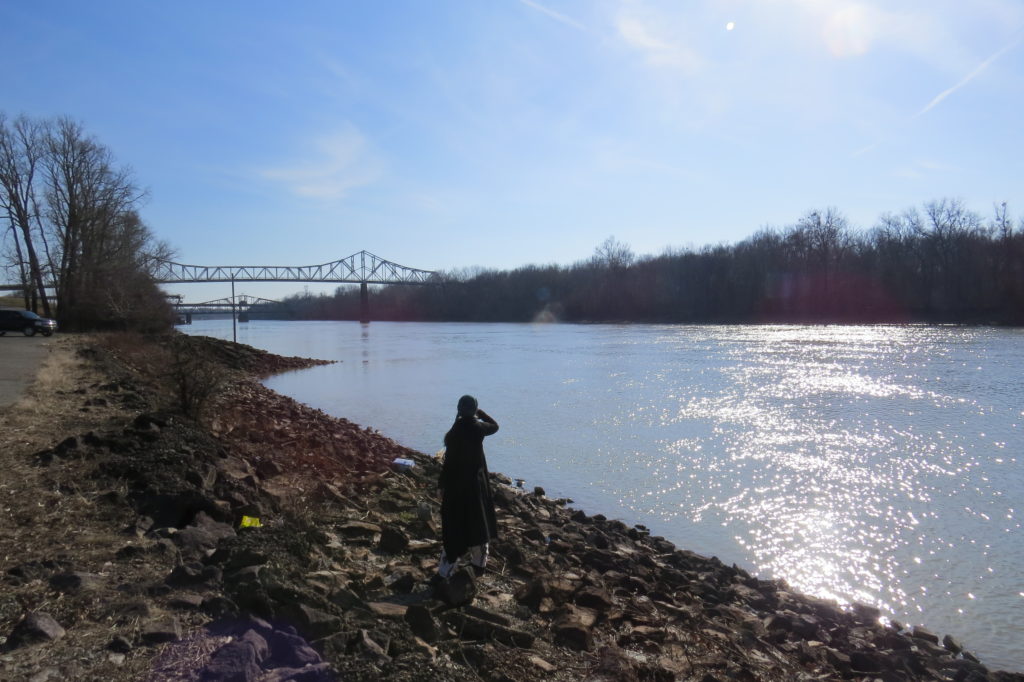 OKAY I THINK THAT'S EVERYTHING FOR NOW. Oof. Thanks for checking out any and all of this, my dears. Stay safe, please.