Yes, you read the title correctly. 🙂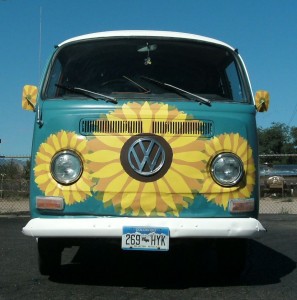 Just after I performed at the Beltania festival in Colorado this May, my friends Makara and Manfred asked me to deliver the autograph of my life.
The two of them have a great deal of fun restoring classic VW buses, and they'd just gotten one to the point that it was ready for a new custom art paint job.  Makara had the design all mapped out in her head to include giant Tuscan sunflowers, inspired by her time in Tuscany…and lyrics from my song, "Cheshire Kitten".
With a big Cheshire cat face and loopy, striped grin on the back of the bus.  And she wanted me to AUTOGRAPH THE BUS.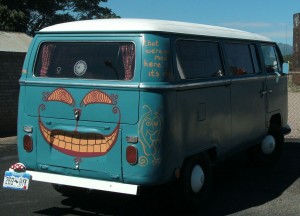 Folks, I have autographed some neat stuff in my time, but this really takes the cake!
What else takes the cake:  the bus is for sale.  $5500 is the asking price!  Also, Manfred and Makara are giving Sooj fans first crack at it.  They're not listing the bus on public websites until this Wednesday (Sept 11), in case one of you guys wants to grab it first. 🙂
Yup.
You could roll out in your own Tuscan Cheshire Kitten Mystery Machine.
EDIT: This beauty is now the beloved new vehicle of my sweet Autumn O'Leary, whom many of you have seen performing with me many times as ASL interpreter!  WOOHOO!
I'm leaving the rest of the photos and info up about the bus anyway, if you're still curious.  Yaaay Autumn!
1968 Delux VW Art Bus:
Partial Westphalia camper interior; bed, closet, cabinet and storage shelf.
Good running 1500 single port engine. Brakes in good working order. All
electrical works. Stereo w/cassette, new curtains, new front seat covers,
new windshield gasket, custom "mushroom" license plate light with stock
license plate lamp as well. Center console & mini plug-in refrigerator. Folding
table and "jump seat" available for no extra charge. Body has had repair
with passenger door replacement and some body fill throughout the vehicle.
Minor imperfections throughout. Body is 100% rust free. Custom heavy
duty rear bumper.
Makara says:
"The art is inspired by my trips to Tuscany and my love of S. J. Tucker's music.
One of my favorite of her songs is "Cheshire Kitten", whose lyrics adorn the back
corners of the bus. "If I leave my grin behind remind me that we're all mad here,
and its okay." I can't tell you how many times singing this to myself has actually saved my sanity. S. J. was gracious enough to autograph both our bus on the rear passenger corner, and a copy of her CD Mischief, which includes "Cheshire Kitten".
In support of this gifted songstress, we are donating 10% of the sale price of
the bus to S. J. if it is purchased by one of her fans. We left some of the art from
previous owners on the interior and attempted to keep the bus's spirit intact. The
sunflowers are a symbol of joy, spurring me on to further adventures following my
dreams. And there is plenty of room on the sides of the bus for more art from your
own journeys.
I even custom painted hub caps and side view mirrors to match the motif. The
vintage stickers were left on the windows for your enjoyment. I hope this bus carries
you on some of the best adventures of your life."