Laddies and Gentlebabes, it is with GREAT joy this morning that I present Wonders the CD, available now for ordering right here! It's still free to listen on my download page– you can also read the lyrics and the full credits there for each song- and now you can order the huggable version. Hope you like it! We worked hard, my brilliant artist friends, my brilliant recording buddies and me, to make it gorgeous inside and out.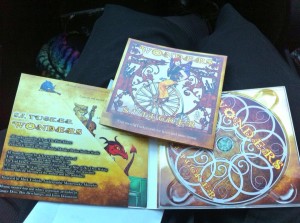 Is it the Wonders that you're after?
S. J.'s 2013 release is inspired, from start to finish, by Catherynne M. Valente's Fairyland novel, The Girl Who Circumnavigated Fairyland in a Ship of Her Own Making! Get ready for a wild ride on the back of a big red Wyverary, or a Wild Velocipede, or a Glashtyn-powered ferry, across such majestic vistas as the Worsted Wood, the Barleybroom River, and the Perverse and Perilous Sea! It is our fondest hope that you will return from these adventures better than when you left.
There's a trick to getting into Fairyland, of course. Track one, "September's Rhyme", is a short song to help you remember all of the things you need to do!
Track two, "Ask Me Anything", is an upbeat anthem inspired by a character named A Through L – the big, winged, red guy whose father was a library. This piece is the first of many on the album to feature the brilliant Betsy Tinney and her lovely cello. It's also the only time you'll hear the low and lovely voice of J. M. Loyd, singing in his Wyverary range!  Sooj dedicates this one to fun teachers, librarians, and sidekicks everywhere!
Track three, "Sailing Song", was written in honor of our heroine's first night out on the Perverse and Perilous Sea; sure to please all who love being out on the open water!
Track four, "Song of the Witches", features all three members of Sooj's band Tricky Pixie- in particular, Mr. Alexander James Adams on vocals and fiddle! This piece is rallying cry, lament, and enticement all rolled up in one, inspired by a scene from the novel in which the heroine, September, encounters two witches and a wairwulf who have a lot to say.
"A witch is nothing without her spoon." Do you dare to help her get it back?
Track five, "Wonders", is our title track: a song for all of us who dare to go on quests that we can't see the end of. "Wonders" is an anthem for all of us who dare to believe in ourselves, and it features the lovely Heather Dale on backing vocals and bodhran.
Track six, "Glashtyn Shanty", is a sinister beat-to-quarters piece written in honor of the horse-headed fairy men who haul the ferry back and forth across the Barleybroom River, day in and day out, taking their tithe without warning. "Yes, dearest, you may go and look at the water. But don't lean too far over the side…" This piece features a wicked male chorus of Glashtyn lads: Alec Adams, Ryan Loyd, James Tinney, and K. Wiley.
Track seven, "Little Skylark (the Worsted Wood)" is, put as simply as possible, a lullaby gone wrong, sung in the dark forest night by a young lady who is trying not to turn into a tree, as she attempts to lull her own death to sleep. Creepy, no?
Track eight, "September Morning Bell", is a wicked spoken word piece that wanders through various events in the novel, weaving together speculation and mystery left and right. Betsy's lovely cello work is featured once again.
Track nine, "The Great Velocipede Migration", is the absolutely essential Celtic Fusion theme music for a herd of wild, dusty, snorting, honking…..bicycles? Yes! A herd of high-wheel bicycles, roaming the countryside! STAMPEDE!
Track ten, "Not the Villain", was inspired by a young lady who once was called Maude, and a very familiar situation: sometimes the best intentions make for the best villains of all. But they'll never admit it, not even to themselves.
Track eleven, "For Iago", is both sweet lament and wild storm. This piece is proof that even double agents and cats of dubious alignment have someone who loves them very much, and it features Betsy's cello work once again.
Track twelve, "Little Skylark (safe at home)", is our lullaby done right, from mother to daughter, invoking bygone biplane days, steampunk dreams, and radio broadcast performances circa 1941. Betsy and Sooj play this one on their own with beautiful simplicity – guitar, cello, and voice, with very few frills.
You may certainly listen to the album in order as presented here, but if you'd like to experience the songs in order of the things that inspired them in the book, listen to this alternate track list instead:
1. September's Rhyme
2. Song of the Witches
3. Wonders
4. Ask Me Anything
5. Glashtyn Shanty
6. The Great Velocipede Migration
7. Little Skylark (the Worsted Wood)
8. September Morning Bell
9. Sailing Song
10. Not the Villain
11. For Iago
12. Little Skylark (Safe at Home)