When:
November 7, 2023 @ 7:00 pm – 10:00 pm
2023-11-07T19:00:00-07:00
2023-11-07T22:00:00-07:00
Where:
Tortuga Gallery
901 Edith Blvd SE
Albuquerque
NM 87102

Cost:
$20-$40 sliding scale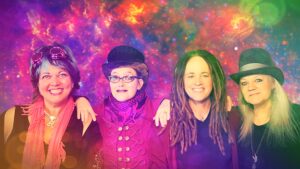 ALBUQUERQUE, WE MISSED YOU! Extra special thanks to Logan & Tortuga Gallery for letting us come home to the Rio Grande Valley again!
Soul-siblings & singer-songwriters come together to rock your world: hippie warrior Ginger Doss, groove goddess Lynda Millard, blues priestess Renée Janski, and pixie queen S. J. Tucker! There will be rock. There will be jazz. There will be truth, tears, laughter, and perhaps even the perfect kaleidoscope of spiritual awakening. Join us for a magical, multi-instrumental, full-spectrum harmony driven performance like no other, featuring original songs by each band member, as well as old favorites brought to new life. #MusesontheRoad. Get on board, Abq, for one night only: November 7, 2023 at Tortuga Gallery, 7pm Mtn. $20-$40 sliding scale supports Tortuga Gallery as well as the band, helping them complete their autumn tour from Northwest Arkansas to and from Hexenfest in California!
#MUSESONTHEROAD 2023
Ginger Doss: vocals, keys, drums http://www.gingerdoss.com
Renée Janski: vocals, keys, bass, fiddle, drums http://www.reneejanski.com
Lynda Millard: vocals, bass, flute, guitar, drums
S. J. Tucker: vocals, guitar, drums http://sjtucker.com