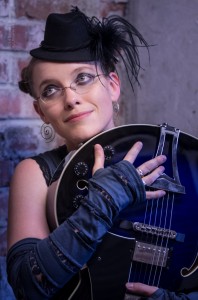 "The voice of lore at the campfire and the sharp laughter of modern myth…S. J. Tucker is songs and stories, community and wit."-Phil Putnam
CURRENTLY IN THE WORKS: S. J. has conjured and concocted a heavily jazz & blues flavored album called Stolen Season!   Listen free, download, and order your copy!
Subscribe to her YouTube channel  or become a monthly sponsor-subscriber for sneak peeks of even more tasty new projects!
Listen to all of S. J.'s songs for free.
ON TOUR: S. J. is on the road in the South this Autumn! She's performing in Texas, Missouri, Illinois, Louisiana, Tennessee, and Arkansas from now until Halloween, joining up once again with her band Tricky Pixie, and with cellist Betsy Tinney.   View the Tour Schedule here.
"Tucker is not only fantastic; she's like a character out of a fantasy novel. She weaves myth and magic into her lyrics as easily as a strain of cello, a lick of something electric, the chuffing of a train engine…Tucker has a knack – no, a genius – for weaving old ways with new."
–C. S. E. Cooney, blackgate.com
"One of the foremost songwriters in the world of cabaret, Mythpunk, Faerie, Pagan, and general kickassery, S. J. has released over ten albums and isn't stopping anytime soon!  If you like silly, sweet, fierce, funny, magical, mythical music, then S. J. Tucker is sure to enchant you."
Latest From S. J.
Sep 24, 15
I got a mention in Huffington Post's Mabon article last year, and I only just found out! 😀 "Especially evocative", they said! 😀 I like it!
My songwriting prompt this week was the phrase "summertime sky".  This one's gonna get people dancing at festivals, I have no doubt.  Can't wait!
Dance

 the 

Fairy

 

Ring (Each Season's Change)
Summertime sky is high at the Solstice
Dragonflies are kings of the air.
Starlight reigns when sunset's over
Bright as the fireflies glowing there.
They 
dance
 the faery 
ring
Autumn sky is blue for the Harvest.
Smoke and mystery soon rise.
The very air grows thick with spirits
taking the place of the fireflies.
Dance
, 
dance
 the 
fairy
ring
!
Revel in each season's change!
Will-o-the-wisps are beckoning,
Winter sky is pale and vivid,
Promises on the whistling wind.
Magic of the cold and quiet
brings our 
dancing
 back again.
And we 
dance
 the 
fairy
ring
Spring, the sky is full to bursting.
Rainfall bids us all to wake,
just as flowers rise and riot,
blooming fit for the earth to shake!
Dance
, 
dance
 the 
fairy
ring!
Revel in each season's change!
Will-o-the-wisps are beckoning,
Dance
, 
dance
 the 
fairy
ring!
Revel in each season's change!
The Wheel of the Year turns round again
as we dance
 the 
fairy
ring!