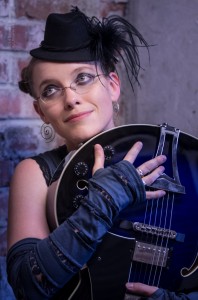 "The voice of lore at the campfire and the sharp laughter of modern myth…S. J. Tucker is songs and stories, community and wit."-Phil Putnam
NOW PLAYING: S. J. has conjured and concocted a heavily jazz & blues flavored album called Stolen Season!   Listen free, download, and order your copy!
Subscribe to her YouTube channel  or become a monthly sponsor-subscriber for sneak peeks of even more tasty new projects!
Listen to all of S. J.'s songs for free.
IN THE WORKS: S. J. has wrapped up her touring for 2015 and is preparing for the next big thing! She's mostly hunkered down for the winter to write and record her face off, but she already has concerts scheduled for 2016 in ten US states.  S. J.'s got a great winter work list which includes music for a video game called DRAGON, music for two indie web series pilots, a new music video of her own, and preliminary work on her next mythic folk record! She'll be back on the road in January.  View the Tour Schedule here as it fills up.
"Tucker is not only fantastic; she's like a character out of a fantasy novel. She weaves myth and magic into her lyrics as easily as a strain of cello, a lick of something electric, the chuffing of a train engine…Tucker has a knack – no, a genius – for weaving old ways with new."
–C. S. E. Cooney, blackgate.com
"One of the foremost songwriters in the world of cabaret, Mythpunk, Faerie, Pagan, and general kickassery, S. J. has released over ten albums and isn't stopping anytime soon!  If you like silly, sweet, fierce, funny, magical, mythical music, then S. J. Tucker is sure to enchant you."
Latest From S. J.
Feb 11, 16
Here is a thing that I absolutely must share with y'all today.  I've been included in a brilliant article over on the Creative Spotlights website, as well as in their book, In the Spotlight: Over 100 Voices in Music. This is the first time that anyone's ever referred to me as a "key music industry player"!  I'm pretty well over the moon about it.

The article includes the wise words of several of my contemporaries from all different corners of the music biz, including Grammy winner Fred Lipsius who co-founded Blood Sweat & Tears, and fascinating NYC busker Samantha Echo.  I'm honored all the way down to my striped-socked toes right now.
Bonus: here's an Instagram peek into the studio stuff that I've been working on with my Tricky Pixie bandmates these past several days!  We're laying down the baby steps for album #2!