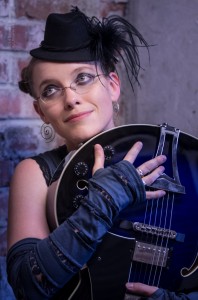 "The voice of lore at the campfire and the sharp laughter of modern myth…S. J. Tucker is songs and stories, community and wit."-Phil Putnam
NOW PLAYING: S. J. has conjured and concocted a heavily jazz & blues flavored album called Stolen Season!   Listen free, download, and order your copy!
Subscribe to her YouTube channel  or become a monthly sponsor-subscriber for sneak peeks of even more tasty new projects!
Listen to all of S. J.'s songs for free.
IN THE WORKS: S. J. wraps up her touring for 2015 close to home this month! She'll give a free performance as part of Conway, Arkansas' 2nd annual Pagan Pride Day event on November 14th, and then hunker down for the winter to write and record her face off!  S. J.'s got a great winter work list which includes music for a video game called DRAGON, music for two indie web series pilots, a new music video of her own, and preliminary work on her next mythic folk record! She'll be back on the road in January 2016.  View the Tour Schedule here as it fills up.
"Tucker is not only fantastic; she's like a character out of a fantasy novel. She weaves myth and magic into her lyrics as easily as a strain of cello, a lick of something electric, the chuffing of a train engine…Tucker has a knack – no, a genius – for weaving old ways with new."
–C. S. E. Cooney, blackgate.com
"One of the foremost songwriters in the world of cabaret, Mythpunk, Faerie, Pagan, and general kickassery, S. J. has released over ten albums and isn't stopping anytime soon!  If you like silly, sweet, fierce, funny, magical, mythical music, then S. J. Tucker is sure to enchant you."
Latest From S. J.
Nov 12, 15
I'll be singing for free at Conway Arkansas' Pagan Pride Day celebration this Saturday! It's my last concert for 2015, and the weather forecast looks mighty fine.  The event runs from 2-8pm in Laurel Park, and absolutely everyone is welcome.  There will be vendors, concerts, workshops, a raffle, and more!
My recording studio just got a remodel of sorts!  Since its awakening in late 2011, The Pixiehouse has had no insulation, and so it was a fair weather workspace at best.  That didn't stop me from suffering chilly winter temps and sweltering summer temps alike in order to Get Shtuff Done, but I won't have to do that anymore.  My partner and I worked together over last week to install insulation in the walls and ceiling, and the comfort level of my beautiful little space has already increased in so many ways!  I'm still putting its aesthetic aspects back together, but it's functional again….and LOTS warmer!  If I have it in me, I'll film and post a new video tour of the space for YouTube soon.