When:
May 3, 2018 @ 7:00 pm – 9:00 pm
2018-05-03T19:00:00-05:00
2018-05-03T21:00:00-05:00
Where:
Sooj's Concert Window channel
http://www.concertwindow.com/sjtuckermusic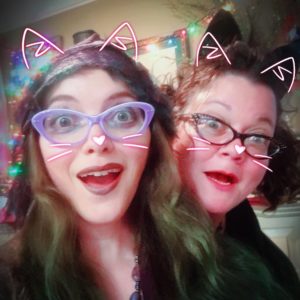 WATCH HERE: http://www.concertwindow.com/sjtuckermusic
(Choose your own price!)
"I can't sleep a wink, did I leave on the hall light?" No, it's just that "we're all mad here, and it's okay!" and the glow of the moon tonight! 😀 Join these two song-sharing besties as we fuse our best material live on the magical internet for you! Online shows never run out of seats, and we have some never-before-seen surprises planned! Music kicks off at 7pm CENTRAL TIME (8pm Eastern, 6pm Mtn, 5pm Pacific), and tasty tip rewards will be on offer as usual! This broadcast will be our warmup concert before we travel to Chicago together to perform at SPRING TRIBAL STOMP on May 5! Info on that here: https://sjtucker.com/event/chicago-zeze-oiseau-at-tribal-stomp/
Zeze Oiseau is the sassy, sexy, musical fusion of Glamazon Goddess Renée Janski and Pixie Queen S. J. Tucker. With big bold backgrounds in the world opera scene, theatre, gospel, rock, and the vibrant witchy festival circuit here in the USA, these two snazzy songbirds combine their powers to present a goddess's ransom of shimmy-worthy original tunes on keys and guitar. Arkansan-born world travelers Sooj and Renée are award-winning songwriters and performers who are both authentic and approachable, always seeking to lift the spirit when they lift their voices, and to fire the soul as they share songs with us and with each other. Get in here and soak it up.