1. TRICK-OR-TREAT FOR TIGERS
I'm participating in the annual Halloween Studio Tour once again!
Once a year, a whole pumpkin patch full of artists, makers and musicians comes together in support of our favorite animal charities.  This year, I'll be donating 20% of my online sales of certain music items to Turpentine Creek, the premier Big Cat refuge in the US – it's actually only three hours away from my own home!
Check out my page on the tour, and visit the tour map to find other tricks and treats!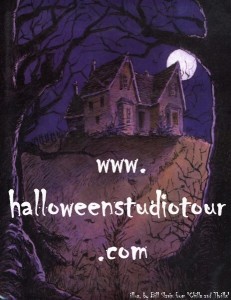 2. OTHER FRIENDS AND FUNDRAISERS
Murder Ballads are still campaigning away for their first studio release, Pretty In Scarlet, for which I contributed some fun drum tracks!
Friday Afternoon Tea has a new webisode posted!  I got to be a sponsor again.  Check it out!
I've got just a couple of events and concerts this month, all close to home!  I'll be at Summerland Grove's Festival of Souls Oct 18-20 near Memphis, and I'll be at the first-ever Pagan Pride Day in Conway, Arkansas (one of my new hometowns) on Oct 26 from 2-8pm in Simon Park – this event is free!  Check out all the details for my October travels on the tour schedule page.
4. HOW'S THE NEW ALBUM COMING?
I'm working hard at home to get the Stolen Season album ready to go to print.  As a consequence, I took an unannounced Facebook and blog hiatus which lasted nearly a month (oops).  Don't fret, though; I'm still here!  I've just got my guitar strings and nose to the grindstone, that's all.  🙂  The album may or may not be ready for digital release by Halloween, but that's what I'm shooting for.  I've basically got this week and next week to get the mixes of every song all polished and completed and off to my mastering engineer, Mark Yoshida.  Wish me luck!
Watch this space tomorrow.  If I can get it together, I'll post the list of songs which will appear on the Stolen Season album!  For now, back to work for a few hours, and then off to Conway Arts Fest to spin some fire with my friend Hector Garcia!